Welcome to Enchanted Island Amusement Park
AT ENCANTO PARK
Forbes names "Encanto Park" in Top 12 Best City Parks in America! 
The Valley's best places to take the family is conveniently located just west of 7th Avenue on Encanto Blvd, right in the heart of Phoenix's picturesque Encanto Park.
Enchanted Island is filled with charm and magic, offering nine fanciful rides and a variety of popular attractions geared especially toward children aged 1 to 10.
Ride the historic Encanto Carousel. Pedal-boat across fish-filled lagoons. Test your skill at our arcade games, and share the memories over a fluffy ball of cotton candy.
Enchanted Island is one of life's simple pleasures. Come visit us today! We also host the best company picnics in Phoenix!
For more family fun entertainment, visit the Daisy Mountain Railroad, Desert Breeze Railroad, and Freestone Railroad!
Splash Zone NOW OPEN!
To Play: Splash Band $5 or All-Day Park Pass, Children under 1 FREE with a paying adult! Adults FREE with paying child up to age 10!
Ride Restrictions: Children in diapers need swimmer pants.
Footwear required in park and for Splash Zone. (Examples for splash zone: water shoes, socks or rubber flip flops)
Appropriate swim wear is required. Swim wear is defined as an article of clothing, such as a swimsuit, that has been designed to be used in a pool environment. Swim wear should be lined and may not be transparent at any time. Revealing swim wear and thong or t-back swim wear bottoms will not be permitted.
---
Monday, July 25th, 2016 at 10:59am
Last week to get your Year Pass for 50% off! Give us a call at 602.254.1200 ext 221 for more information. https://t.co/zRAnWPzyWb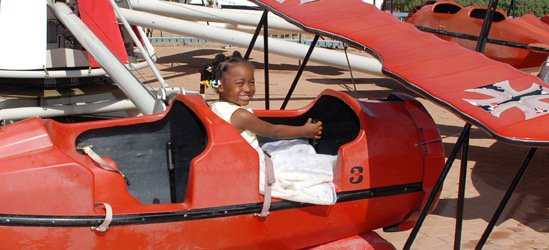 Tuesday, July 19th, 2016 at 12:27pm
Take a pic at our Pokestops Upload your picture to Twitter Use #EnchantedIslandPokeStop Get FREE SMALL SODA https://t.co/RbahG1WSBZ

Tuesday, July 5th, 2016 at 9:14am
50% off Year Passes! Not valid on previous purchases. Not valid with any other specials, coupons, or discounts. Offer valid until 07-31-16
---
Designed for children ages 2-10 and their families, Enchanted Island is truly an oasis of family fun. The exciting rides, tasty food, fun games and our year round operating schedule combine to make Enchanted Island an ideal spot for birthday parties, holiday celebrations or a day "JUST FOR FUN!"
Enchanted Island Amusement Park
Friday, July 29th, 2016 at 10:34pm
3 View on Facebook
Enchanted Island Amusement Park
Thursday, July 28th, 2016 at 9:29pm
5 View on Facebook
Enchanted Island Amusement Park added 5 new photos.
Thursday, July 28th, 2016 at 8:07pm
1 View on Facebook